Read what our customers have to say ...
Hi,
I haven't had time to install but the bushings look great and look the same.
I think more people will buy it for their 600r race sleds since the OEM ones don't last long and are expensive to buy. Ship and tax to Iceland.
The shipping took no time. Received the parcel a few days ago.
Thanks

Einar, Iceland,
Dec 14, 2022
Good evening, Val, Just wanted to let you know the parts arrived along with the tool. I removed the old shock bushings and pressed in the new PTFE lined ones. Installed the new axles and grease fitting bolts. All turned out great and I must say every kit that I have installed available from you is quite impressive. Very happy about it all. Glad to have all kits available for my 1200 going to last me for a long time.

Thank you for your hard work, love for sledding and making sleds better. Not too many people around these days that do that in this disposable world. Whenever I do upgrade to a G4, Mainway Solution parts will be added.
Take care J-C,
Oct 18, 2022
Hi Val, I first wanted to say thanks for the quick shipment! I was very impressed with the quality of the A-Arm bushings. The installation instructions were helpful and I can tell a big difference on my 2014 Skidoo. I am so impressed with the quality, that I will be purchasing more this summer for my wife's sled. I am also planning to purchase a 2023 skidoo and will also get them from you for my new sled. Thanks for putting out such a high-quality product. I will certainly recommend your A-Arm bushings to all my friends and family who ride!
Thanks again,
Bob A., NY USA Jan 30, 2022
Hi Val,
I've had 2 good rides on my sled now and am very impressed with your system.
The sled vibrates less, especially in the bars but also noticeable in the feet. Not hard to imagine why, after seeing how easily the stock plastic bushings deform and poorly fit. The suspension components move freely throughout their entire travel thanks to the superior bushings and axles you made. 1000% better than stock.
Also the new Elka shocks & springs have made the chassis so much better. Overall ride quality and bump absorption is significantly better. Cornering is much better too. Maybe too good!
But I fully believe the Mainway Solutions upgrade (especially the custom work you did😎) is the crucial element in letting the upgraded Elka's show their stuff.
Best performing snowmobile I've ever had.
Thanks for everything,
Extremely satisfied customer!!
Brad M. from Ontario
Jan 27, 2022
I finally got time to install your skid plate hardware on my 2022 xrs. That is an awesome kit! You also did a great job with detailed instructions. Thanks again
Keanyn
Iowa USA
Oct 19, 2021
Hey Val, hope all is well professionally and with family considering. Finally got around to installing your a arm bushing set. Have to say I'm impressed with your design, and machined tolerances. The front end is TIGHT AND RIGHT!!!. With the added weight of 6.9 skis and retractable wheels, it's PERFECT.
The only thing I changed was I decided to not use your plastic caps. I instead are using rubber automotive style bleeder caps. I felt the plastic caps don't have the right tension to stay on and in my mind only care about the grease fitting being protected. Personal preference.
When I'm ready for the rear skid I'll be definitely hitting you up.
Thanks again..... Chris
Aug 6, 2020
Just wanted to reach out and say THANK YOU!!!!!
Started installing your bushings, very impressed with the quality, fit and finish and the instructions are spot on!!!!
Thanks again Val
Chris
Hello Val,
Kit 100% as described, all went well on the install.
Thanks for the attention to detail! Love it and makes the job simple.
Cheers from Vermont!
Scott
Thanks Val for the quick response. (I looked at your instructions and seems very clear.)
Your products are very nice. The A-Arms rotate so smoothly now. The stock bushings were still usable, but sub standard compared to your engineered upgrades. So much tighter, way better than new.
Thank you for all of the superb quality products !
-Scott
Finally got the last of the kits I purchased installed on my 2018 GTX SE 900. Hard to stay motivated to work on a snowmachine in the middle of summer.
Everything went together easily and they look like they'll work really well.
The pictures in the instructions for the MSK04 kit looked quite different from my link arms but everything fit.
With the MSK07-1 kit I had a lip on both sides between the new bushing and the factory bushing but a chainsaw file took care of that and the stabilizer bar is solid now.
Thanks for creating these amazing kits.
Robin
Hey Val,
Finally got time to ride after installing the Mainway T-Motion Delete Kit. 100 times better. Put it in the hill and it stays there and doesn't wash out.
Save tons of energy not fighting the sled. Wish I would have done it sooner.
Thx
Zach from Montana, USA
Val,
I just installed my skid plate and I wanted to let you know how happy I am with the install kit I ordered from you.
The fasteners are simple but well thought out and your instructions were perfect. Nice clean look and I appreciate that you send stainless hardware for this. I only wish I'd known about your kit when I did the skid on my 17. I used the old expanding nutserts that take the expansion tool like a manual pop rivet tool. The ones in plastic slipped so I'm sure if it'll be a headache once I need to take it off.
I'll let my buddies know that your nutsert kit is the only way to go. I suppose one of these days I may look at ordering another kit for a few of the ones that slipped in the plastic on my 17.
Nate, Colorado
Thank You Val, you have an excellent product which has proven to extend the life of the parts that I would normally be changing on a regular basis. I brag about this addition to my sled when talking to my friends.
Cheers
Scott from Ontario
Hey!
I'm a customer from Norway with a shipping address in New Jersey US.
The phone number you tried to call is a company called Magnum / Jet Carrier where I have my US address.
I gather up things I shop in US there and then they ship all in one shipment to get the shipping costs as low as possible.
You can go ahead and ship my order there.
My phone number in Norway is xxxxxx
BTW I saw your products on PowerModz on you-tube, what a good idea👍🏻😊

Kind regards
Jon from Norway
Hi Val,
I finally got around to installing my skid plate. Here are a few pics for you in case you want to use them in your instructions. These are for a 2016 XS chassis with the extreme skid plate. I thought you might want to make little arrows pointing to locations for the different fastener styles and the 2 holes that are drilled and tapped. Also, some of the problems you have had with fasteners spinning may be due to the factory red thread locker on the bolts. I ran mine back and forth thru the plain 1/4 nut a few times before installing them and noticed a few of them were quite tight the first time thru. Other than that install was a breeze and the fasteners are very nice.
Thanks,
Brad from Ontario
Val
All installed! Thanks for following up with the instructions etc.! Great product! Wish skidoo could get me the other parts I need that fast! 2hrs 15min start to finish with lots of me slacking off and stoking the fire in the wood stove.... if I'd really just pushed I could have done it in an hour. Very easy install I expected the sled to fight me for the removal but everything came apart nicely and the tips about bending the bracket out for easier installation and using the locator pin made it go nice and smooth... think I only swore once or twice! I posted in "#705 snowmobiles" on Facebook and others have chimed in saying they have them and love them so I'm looking forward to riding with it when the parts from my brp order come in.

Nick from Ontario
Val,
I'm pretty sure I saw Mainway Solutions mentioned in a Snowest forum thread. I followed up by watching a You-Tube video where the guy installs the skid-plate with your hardware on a 2016 Freeride.
I'm looking forward to using your product.
Regards,
Ben  from Alaska
Val, The kit I bought from you was superb!
I installed it as soon as it came in. Your instructions were detailed and thorough. The bushings gently pressed in perfect as well. I nipped the end of a dock with the one ski and bent the control arms on the right side as well as the s-module. At that point I had 2300+ northern Ontario km. on them. While I was replacing parts I inspected all the bushings and pins. Zero wear on any parts. I reinstalled them into the new control arms and put on another 2690kms before I put the sled to sleep. I checked for suspension wear and they are still as tight as the day I put them in. At just shy of 5000km on them this past winter I must say I am impressed. I gave them a small shot of amsoil low temp grease every 1500 km.
I bought a newer xp last month so I will be buying another kit from you. I will need one for one of my customers sled also. A great product Val. We'll be talking soon.
DAVE ………CHATHAM ONTARIO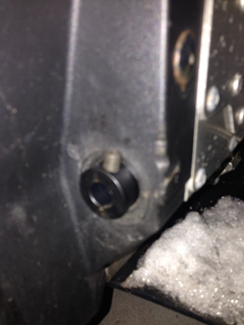 I installed the bushing kit around 3 weeks ago and have since put ~500km on them. The install was pretty straightforward, hardest part was getting the sway bar out! Before I installed the bushing, any time I leaned to a side my sled would 'clunk' but after I installed the bushings no more 'clunk'; everything was nice and tight! I put some grease between the bushing and the axle housing like you recommended, no leaks, no slippage or anything from what I can tell. These things should last a long time!

This bushing kit works fantastically. I'm very happy with it and I am glad I got the chance to test them out for you Val!
Here are some shots of them installed. They look great and do the job!

Frank………Sudbury, Ont
Get in touch with Val at Mainway val@mainwaysolutions.ca
He fabricates greasable A arm bushings, front skid swing arm bushings and link rod bushings.
Excellent quality and customer service.
I have 2500 miles on them and they are as tight as the day I installed them.
Mark , MA,USA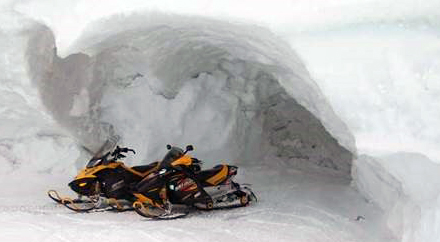 BTW. My sled is like brand new... handles so much differently... it actually steers where I point it :)
My alignment was wayyyyyyyyyyyyyyy off... Left ski was off by 1/2" toe out! And I just did an alignment last season..
My sway-bar was making squeaking noises on the weekend... lol... And I thought no worries Val has a fix :)
Ben ... Honey Harbour, Ont
Hello Val,
Just wanted To say Thanks Again. I have got some riding in about 300 miles
And I can't believe the difference in the performance of the front end.....lol
So much more smoother!!!
Thanks Again ... and always feel free to get a hold of me if you need anything...
Bill , Fort Edward, NY